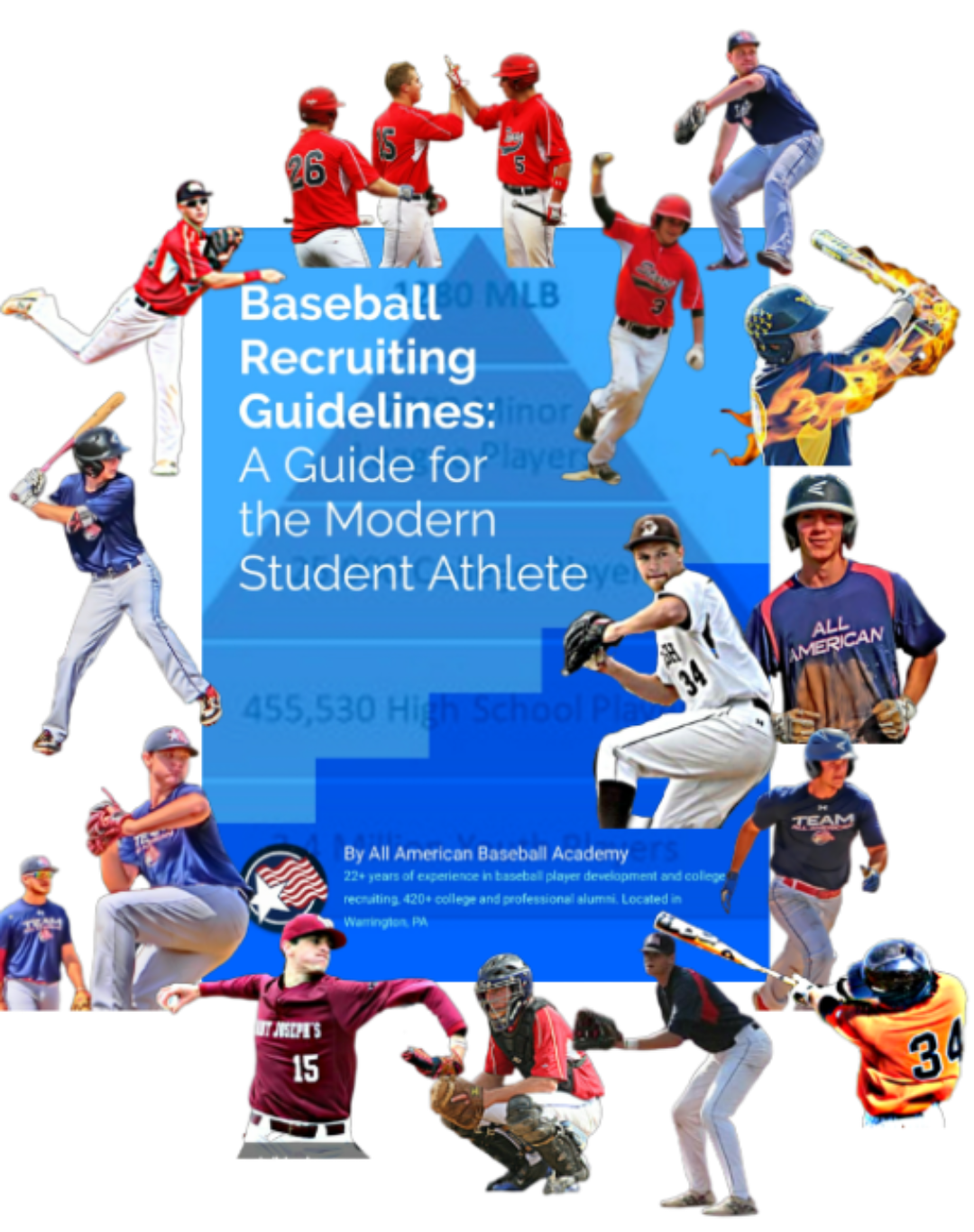 BASEBALL RECRUITING GUIDELINES:
A GUIDE FOR THE MODERN STUDENT ATHLETE
E-BOOK

SPECIAL INTRODUCTORY PRICE- FIRST 99 COPIES- ONLY $9.99
WHAT'S INSIDE:
THIS E-BOOK WAS DESIGNED FOR BOTH PARENTS AND STUDENT ATHLETES
WITH OVER 22 YEARS OF SUCCESSFUL PLAYER DEVELOPMENT, ALL AMERICAN BASEBALL ACADEMY IN WARRINGTON, PA HAS PLACED WELL OVER 400 STUDENT ATHLETES AT THE COLLEGE AND PROFESSIONAL LEVEL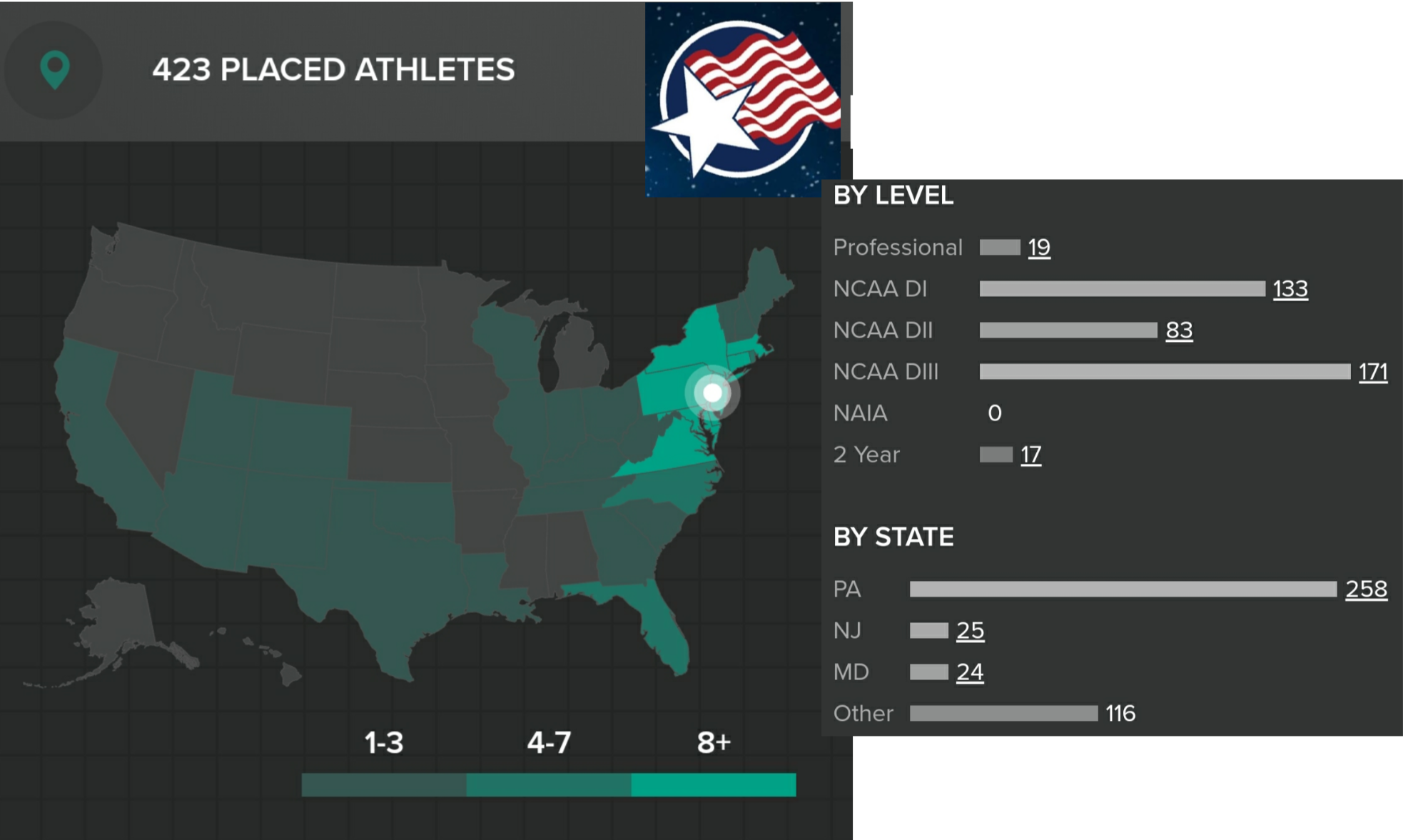 THIS BOOK WAS WRITTEN TO HELP ATHLETES CREATE RELEVANT OPPORTUNITIES, $AVE THOUSANDS OF DOLLAR$ IN THE RECRUITING PROCESS AND FIND THEIR PERFECT FIT!
TOPICS INCLUDED IN THE

59 PGS

OF THIS BOOK:
THE BASEBALL METRICS REQUIRED FOR EVERY POSITION AT EVERY LEVEL- DI, DII, DIII, JUCO, NAIA
THE ODDS OF GETTING RECRUITED AND HOW TO WORK THEM
HOW ACADEMICS IMPACT THE PROCESS
SHOWCASES, COLLEGE CAMPS, ETC.
HOW YOUR LOCATION AFFECTS YOUR CHANCES
WHICH STATES ARE OPPORTUNITY GOLDMINES?
HOW TO TRULY EVALUATE YOUR SKILLS- BEYOND THINKING "I'M A GOOD PLAYER"
HOW TO KNOW WHERE YOU CAN PLAY BASED ON YOUR METRICS
HOW TO CONTACT COACHES- PLUS A BONUS SAMPLE E-MAIL
A COURSE OF ACTION FOR CURRENTLY UNQUALIFIED PLAYERS
A COURSE OF ACTION FOR QUALIFIED PLAYERS
HOW TO FIND THE PERFECT FIT- BONUS TARGETED RECRUITING CHARTS
HOW TO AVOID COMMON MISTAKES RECRUITS MAKE
WHAT TO DO ONCE YOU COMMIT
WHAT TO GET OUT OF COLLEGE VISITS
AND MORE...

ORDINARY PRICE: $20.00
SPECIAL INTRODUCTORY PRICE-

LIMITED TIME ONLY

(FIRST 99 COPIES)- $9.99
BUY NOW AND WE'LL THROW IN AN ADDITIONAL 3 BONUS MATERIALS THAT WILL HELP YOU
LAUNCH YOUR RECRUITING PROCESS FREE OF CHARGE!!
WHY WASTE THOUSANDS OF DOLLARS? FIND YOUR FIT