We Know What You Want!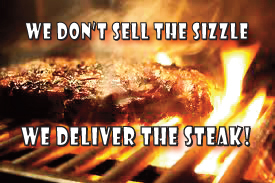 Have you ever purchased a product because it was advertised so well that you felt you could not resist buying it? Of course you have. We all have. We make decisions based on the wrong reasons all the time. Advertisers are paid to appeal to your impulses. We all love brand names and even when the same product is packaged both as a generic and a brand name, we question whether we will be disappointed with the product sold as a generic. That's because you have been sold the "sizzle." We buy stuff we don't even need because of the "sizzle". We buy stuff for our friends and family members because they have been sold the "sizzle." If you have an unlimited amount of funds you can buy the "sizzle" all day long. When you find yourself spending dollars to chase dimes, buying the "sizzle" makes little sense.

Many of our aspiring young players have dreams of becoming professional baseball players. Some dream of attaining a baseball scholarship to play at the college level. It is a noble pursuit and we wholeheartedly support their efforts. The odds of becoming a paid professional player are astronomical and while baseball scholarships are available, they are extremely underfunded. So if your goal is to reduce the cost of a great college education by playing baseball it stands to reason that you should not spend more to get a scholarship than you may receive. There is no escaping the "sizzle." It affects players, parents and coaches from Tee ball to Pro Ball.

We know what you want! You have to become very good before you get what you want. Are you very good? Do the people who make the decisions think you are very good? Since 1998 our goal has been to keep finding new ways to provide state of the art, services to help baseball players attain their goals. Part of that process is to determine what is most important and concentrate on those areas. We asked some of our most successful alumni to look back on their experiences and tell us what they felt where the most important things that helped them achieve their goals. It confirmed exactly what we expected. The single most important part of the process was each players focus on his own personal development. The daily, weekly, monthly dedication to always train with a purpose far outweighed everything (championship trophies, high school participation, playing with friends, etc.). After that came the mentoring process. Working with our staff, in a comprehensive program, starting at an early age, provided the many hours of perfect practice needed to allow each player to reach a level of skill which then became their unique identity. When we asked them how they best marketed themselves we found that our best players were pursued by many schools and colleges. Many had to target market their schools to find the best possible match based on academic, athletic, financial, geographical, considerations. We educate our players and families about the college recruiting process. We demystify what at first seems to be so overwhelming and show them how to determine what is most important to each player.

So where do the showcases fit in? They serve a purpose to identify players with unique abilities but, for 95% of the participants they are a very expensive learning process. Players who spend the money on a showcase to find out how fast they run a 60 yard dash are wasting their family's money. This is spending dollars to save dimes. You can run a 60 yard dash at your local high school track and have someone time you for free. If you are not very fast then hope you are a talented pitcher, a catcher, or a power hitting first or third baseman.

What about college clinics? If there's a school you like very much then spend a reasonable sum which many charge to attend a clinic run by the baseball team coaching staff. Anything else, like a clinic with coaches from numerous schools fall into the expensive category of "sizzle." If you think you are going to attend a 4 hour clinic with famous coaches to become a better hitter or fielder, think again. You are buying the "sizzle."' The truth is that many players actually go to these clinics hoping that their above average abilities are going to impress a coach so much that he gives him a scholarship. More steaks are burned on the grill with this mentality than we care to discuss. If famous college coaches have the time to be away from training their teams it's for two reasons. The first is likely that their recruiting is basically done. They most likely have more prospects than they need for the next two years and second, they are getting paid to be there. If they were desperate to fill a position they would not likely spend their valuable time working with a small group of players. The "sizzle" of the reputations of their schools and programs will always be a marketable attraction. Coaches have to consider many factors when identifying the right players for their programs. They are bombarded with hundreds of video clips and emails with links to player pages by prospects who want to be seen. If the coach has a reason to look at them he will find the time. You shouldn't have to pay him to look at you and paying for a private audience somehow seems unethical.

So what do we mean by "we deliver the steak"? What we mean is that we cut through all the nonsense. We educate you on how the process works. From learning the fundamentals to marketing yourself the Academy staff has a track record of success. That success can be your success when you are ready to get to work and focus on what is important.
A full year round training membership including three training sessions per week, run by certified, professional, instructors has an average cost of only $15.00 per hour at the Academy. The cost of the average distraction would cover about two months of training with us. If that sounds interesting to you then call us at: 215-672-7500 and we will show you how to get the best bang for your buck. Remember; you can see the "sizzle", you can hear the "sizzle", you can smell the "sizzle" but, you're paying for the steak. Of course if money is no object then simply throw another steak on the grill and watch it "sizzle".
(The steak and sizzle example is only meant to serve as an analogy and the Academy apologizes, in advance, to our Vegan friends and familes who would never consider eating steak.)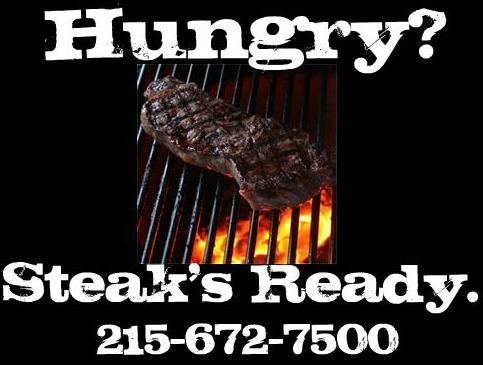 Warrington, Warminster, Doylestown, Horsham, Hatboro, Warwick, Lansdale, Chalfont, Philadelphia, Cheltenham, Abington, Bucks County, Montgomery County baseball academy, Upper Dublin, Fort Washington, Plymouth Whitemarsh, Northeast Philly, Conshohocken, Norristown, Blue Bell, Upper Gwynedd, Lower Gwynedd, Whitpain, Chalfont, New Hope, Souderton, Harleysville, Collegeville, Southampton, Northampton, Newtown