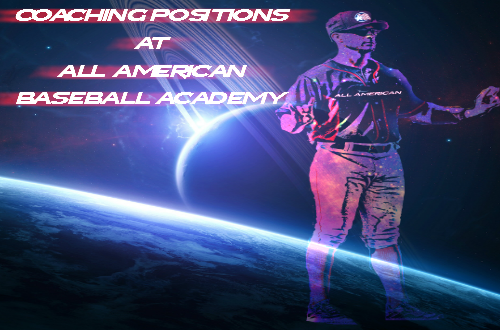 BASEBALL COACH JOBS AT ALL AMERICAN
Since 1998 the All American Baseball Academy has had a rich tradition of providing high quality, professional, baseball instruction and a history of developing talented players at every level of play. All American is in the process of expanding its programs and adding new travel teams and we are looking for talented, experienced coaches. Our alumni credit us with being a large factor in their player development. The All American staff has always been comprised of seasoned professional coaches, college recruiters and professional scouts. We insist upon working with people who bring a positive outlook to the process of teaching and coaching the game.
OPEN POSITION FOR PART AND FULL TIME COACHES:
Responsibilities:
- All members of our coaching staff must be highly motivated.
- You must be able to take direction and have the ability to evaluate, diagnose and correct flaws.
- Our coaches must have the physical ability to work on the field, hit fungos and throw batting practice.
- You should be able to instruct hitting, fielding, catching and pitching plus all aspects of the game.
- You must be able to give individual and group baseball or softball lessons.
- You must be able to coach or assist with travel teams.
Requirements:
- You must be available able to work nights and weekends.
- You should be able to communicate well with younger players and adults.
- Staff members are expected be on time.
- Our coaches must have a professional appearance.
Education:
- The Academy prefers candidates with a college degree, experience in coaching, 4 years of college playing experience or professional experience.
- A background in education is a plus, however
not required.
Part Time: will be an hourly rate.
Full Time will be a competitive rate based on experience.
If you feel you have what it takes to be a part of a growing organization with a rich history of success, then we would like to to hear from you.
To apply: email your resume and cover letter to aabastars@gmail.com
or Call 215-672-7500