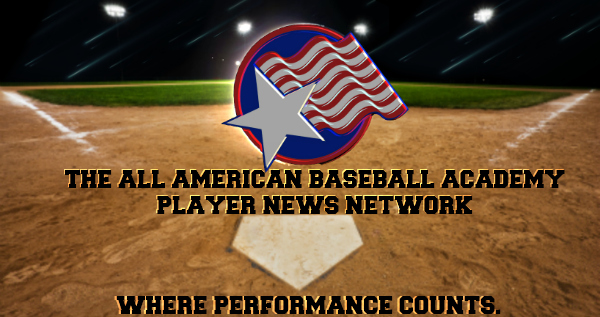 Player of the month is open for voting on All American Baseball Academy's Facebook page at the beginning of each month. Who was our top PA prospect of the month? Who was the top performer? You Decide!
APRIL 2015

Congratulations to Grant Wallace, 2015 RHP, Marple Newtown HS on being named All American Baseball Academy Player of the Month for April 2015. "Dominant." If you had to describe Grant's past month in one word it would be "Dominant." 47 strikeouts in 41 innings pitched. A 2.51 ERA en route to 5 wins against the top teams in the Central Athletic League. Grant's performance through April is a testament to hard work over the off season. We're very proud of your accomplishments 21! Keep up the great work!!!
MARCH 2015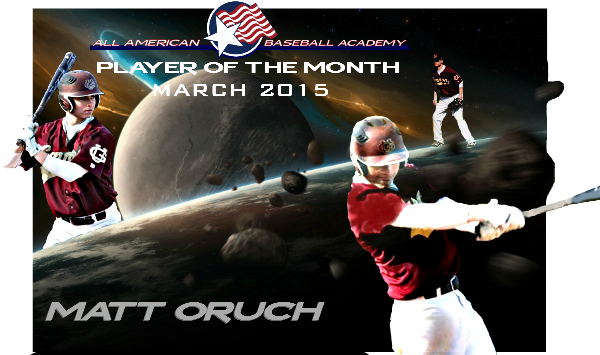 Congratulations to Academy Alum- Matt Oruch, OF Gannon University on being named All American Baseball Academy Player of the Month for March 2015. In Matt's first month of the season with the Gannon Golden Knights he saw time at all 3 outfield positions and hit .279 with a double, 2 triples, 11 runs scored and was a perfect 3 for 3 in stolen base attempts. The freshman saw time in 21 games thus far, starting 16 of them. A great first month at the Division II level for one of the best outfield prospects we've seen in years. We look forward to much more in the future! Great job Matt!
SEPTEMBER 2014

Congratulations to Eric Klaus on being named All American Baseball Academy Player of the Month for September 2014! Eric had strong performances on both sides of the ball all month long. He pitched very well in both starts and relief appearances for Team All American and had a game-winning double vs. TCP in the University of Maryland Tournament. We look forward to great things from the 2017 grad in the future! Excellent work Eric!
AUGUST 2014

Congratulations to Academy Hall of Famer Sean Coyle on being named All American Baseball Academy Player of the Month for August 2014. Sean wrapped up his first Double-A regular season for the Portland Sea Dogs (Boston Red Sox affiliate) with a .295 batting average, 8th best overall in the Eastern League. 4 homers in the month helped him finish with 16 for the 2014 season and 2 doubles helped him finish with 23 on the year. Sean did an excellent job getting on base this season, posting a .371 on base percentage and he was 13/14 in stolen base attempts. Sean's best professional season yet helped the Sea Dogs take the 2014 Eastern League division crown. Great work Sean!
JULY 2014

Congratulations to Aaron Wolf on being named All American Baseball Academy's Player of the Month July 2014!!! Aaron had an excellent month for Team All American picking up wins in all 3 of his starts. His 0.95 ERA and 19 K's are team and organization bests. There is a certain sense of confidence when the 2015 LHP takes the mound. He attacks hitters with an arsenal of plus pitches and makes defensive innings short lived for Team All American. It's been impressive thus far. We can't wait to see what August brings. Great work Aaron!!
JUNE 2014

For the past month, one person's name was brought up more than any other in Academy circles, for their ability with the bat. Mike Dalfarra. Congratulations on being named All American Baseball Academy Player of the Month- June 2014!! Mike got the month off to an excellent start smashing 3 triples and knocking in 5 runs in the first tournament for the 14U team. After adding another triple and posting an impressive .546 batting average with a 1.045 slugging percentage, it was time for the young man to move up to the 16U level. Upon his arrival he hit another triple with the 16U National Stars and finished up the month of June with a .484 (15/31), 5 triples, 8 runs and 14 RBIs stat line. An excellent start to the season by one of our organization's most promising hitters. Great job Mike!!!
MAY 2014

Congratulations to Jordan Pocrass on being named All American Baseball Academy Player of the Month for may 2014. Jordan garnered 1st team- 1B- All Bicentennial League Honors once again for Lower Moreland HS for his production in 2014 and was runner up in Bicentennial MVP voting. May was a strong month for the senior infielder, hitting .538 (14/26) with 8 RBIs, 5 doubles, 8 runs scored and 2 stolen bases for LM. Overall Jordan's .528 (28/53) batting average placed him once again amongst the top hitters in Southeastern PA. He had 15 RBIs and 18 runs scored for the (11-10) Lions. He posted an excellent .609 OBP and only K'ed 4 times all season. The 2014 grad finishes out a great varsity career in which he smacked 95 hits in 197 at bats- .482. Jordan has been an Academy member since grade school and he's always loved to swing the bat. By the time he was 14 years old, he began to really get a feel for using his entire body to swing the bat well and hit the ball hard consistently. His ability grew exponentially over the years with dedicated hours of work at the Academy. Congrats on a great month and a great career Jordan!
APRIL 2014

Academy Hall of Famer, Nate Simon is All American Baseball Academy's Player of the Month for April 2014. Nate hit .318 with 27 RBIs, 17 runs, 11 Doubles, and 2 HR during April. With those numbers, Nate broke Gettysburg College's All-Time Hit record of 193, finishing with 200 for his career. He also broke the Bullets' 26-year-old (1988), Single-Season RBI record of 44, finishing with 48 (1st in the Centennial Conference, Top-10 in NCAA Division III). With 127 career RBI's, Nate sits 1-shy of the Bullets All-Time record of 128. 2014 was Nate's best statistical year in his 4 years at Gettysburg, setting career bests in batting average .371 (7th in the conference), doubles with 13, RBI's with 48 and HR's with 3. His contribution helped the Bullets win 23 straight games, set the new school record for total wins in a season (31) and finish in first place in the conference with a 31-6 overall, 15-3 conference record. Congratulations on all of your accomplishments and a fantastic career at Gettysburg College Nate! Best of luck in the playoffs!
MARCH 2014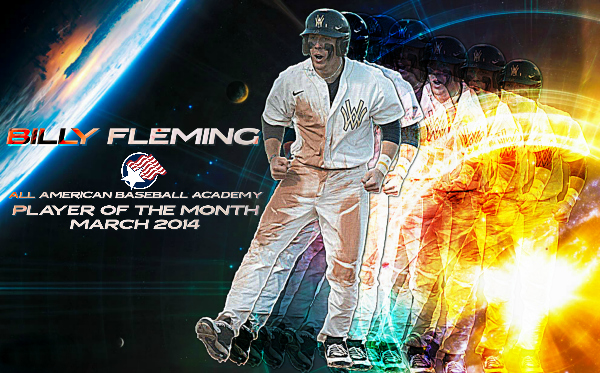 Academy Hall of Famer Billy Fleming is All American Baseball Academy's Player of the Month for March 2014! Billy's play this season for the West Virginia Mountaineers has been downright impressive. The junior, three-hole hitter, has 11 multi-hit games: two 4-hit games, three 3-hit performances and two of his six 2-hit performances came against #8 Louisville and #12 UNC. 19 games, A .413 batting average (2nd in the Big 12 Conference), 33 Hits (5th in the Big 12 Conference),
.
478 OBP (3rd in the Big 12 Conference), 15 runs, 2 Doubles, 8 RBIs, and 4 Stolen Bases for the 12-8 Mountaineers. The Big 12 Conference took notice of Billy's performance and named him Big 12 Player of the Week for 3/17-23/14 (hit .647 (11-for-17) with four runs, one double, five RBI, two walks and one stolen base in four games. Fantastic start Billy! Keep playing excellent ball!
OCTOBER 2013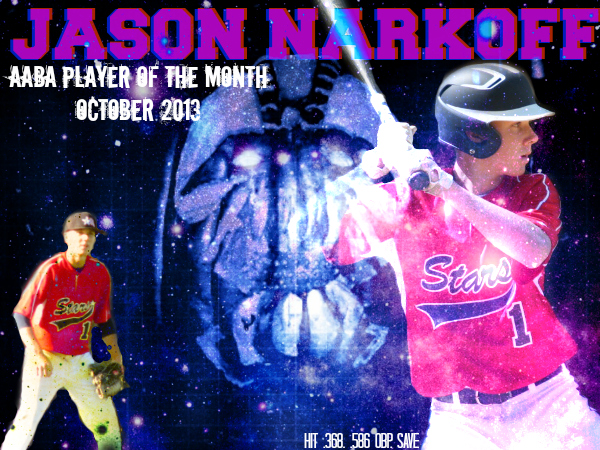 Congratulations to Jason Narkoff on being named AABA PLAYER OF THE MONTH OCTOBER 2013. Jason hit .368 over the course of the month and managed to draw 10 walks en route to a .586 OBP for October. He also picked up a save in his first mound appearance as a 16U Star. A great month by one of our up and coming prospects! Excellent work Jason!!
SEPTEMBER 2013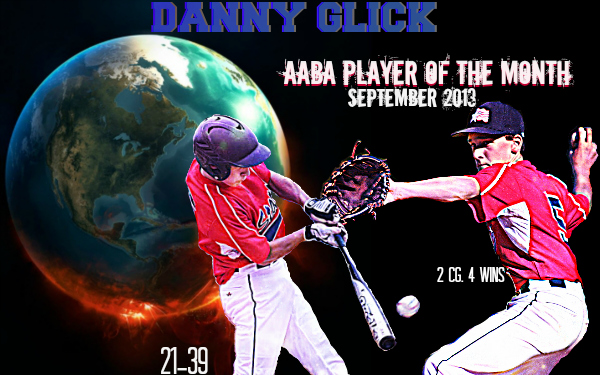 Congratulations to Danny Glick on being named AABA's Player of the Month for September 2013. They say preparation is the key to success. Danny Glick certainly knows about preparation. Years of focused training in All American camps and clinics, in the Junior Academy Program and in Private Lessons prepared him very well for his first month of elite tournament baseball with the AABA Stars. Danny set the new record for pitching wins in a month with 4, 2 of which helped the Stars capture the ECTB Grand Slam Championship title. 2 of his 4 appearances were complete games. At the plate Danny rattled off 21 hits in 39 at bats! Good for a .538 batting average for September. This is only the beginning for a very talented young man. Excellent work Dan!!!!!
AUGUST 2013

Congratulations to CF Matt Oruch, 2014, on being voted AABA's Player of the Month for August 2013. Matt had a .531 batting average (17/32), 2B, 5 Runs scored, 7 RBIs, 4 stolen bases, a .545 OBP and flawless defense for the 18U AABA Stars. Matt went 66 at bats this year without striking out! A phenomenal feat for a high school junior in showcase baseball. A tremendous month of August at the plate brings Matt's overall average to .394 for the year (26/66) with 11 RBIs out of the leadoff spot. During August Matt stole numerous gap hits from opponents in centerfield and even turned a double play. Keep up the excellent work Matt!! This is the second time Matt has been named player of the month- June 2012
JULY 2013

The fans have voted and Jake Vesling, 2014 is AABA's PLAYER OF THE MONTH JULY 2013. Jake hit .417 for the month with a HR, 3 RBIs, 2 runs, 3 IP, a win and 0 ER allowed. He also played tremendous defense, stealing numerous hits from opposing players at shortstop. A strong month of July gave Jake a .500 overall batting average, 2 wins and a 0.00 ERA through 7 innings pitched overall for the 18U Stars. Jake's tremendous play, 6.9 speed, mid-80's arm, and ability at the plate has drawn attention from numerous colleges over the past few months. Keep up the great work Jake!!!
Check out Jake Vesling's Video
JUNE 2013

The Fans have voted and Ryan Murphy is AABA's PLAYER OF THE MONTH JUNE 2013! Ryan turned in a pair of stellar pitching performances that helped the 17U Stars win their first two games of the summer. The first in a relief appearance at Eastern University vs. the Diamond Pros and the second in a complete game effort, scattering 3 hits at the Virginia Sports Complex v. The Bradley Eagles. We expect many more great performances from Ryan in the future! Keep up the great work 1-7!
MAY 2013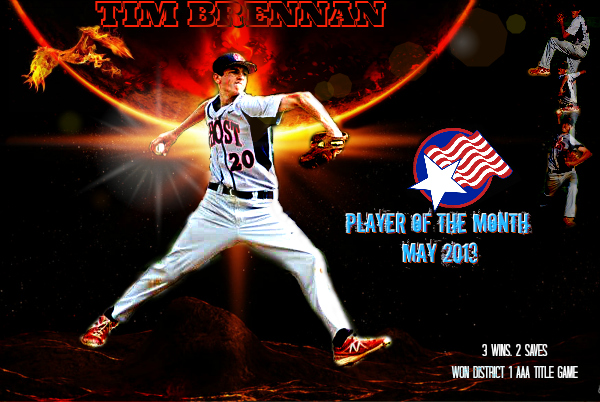 The fans have voted and Sophomore Tim Brennan of Holy Ghost Prep High School is AABA's PLAYER OF THE MONTH for May 2013! What a month it was for the 2015 grad, picking up 3 wins and 2 saves for the Firebirds, including the Bicentennial Independence Title win and the District 1 AAA Title win. Tim came through at the plate as well for the Firebirds, knocking in crucial runs and pounding out extra-base hits. Tim is definitely a Star to watch this summer on our 18U National Team! Great month Tim! Keep on firing!
APRIL 2013

For the second straight April Jordan Pocrass is AABA's Player of the Month. Jordan put together an awesome month for the Lower Moreland Lions going 18-31 (.581), 4 of those hits being home runs, 6 of them doubles and he drove in 16 runs. On the mound he pitched a gem vs. Church Farm 4/11/2013, nearly no hitting them and picked up a 5-4 win vs. New Hope Solebury in a pitchers duel 4/26/2013. Excellent job! Keep up the great work Jordan!
Check out Jordan Pocrass' Video
MARCH 2013

The fans have voted and Nate Simon is AABA's Player of the Month for March 2013. Nate started off 2013 by stroking the game winning double in the 12th inning of Gettysburg's opener. Nate would go on to record his 100th career hit for the Bullets on 3/23 and finished March with a .338 batting average, 5 doubles, a triple and 13 RBIs. Nate's stellar performances all month helped Gettysburg to a 14-6 record. Congrats Nate keep up the great work!
OCTOBER 2012

Congratulations to Rich Steinard on being voted AABA's PLAYER OF THE MONTH- OCTOBER 2012! Rich's dedication and determination to improve his game over the past 2 years at All American Baseball Academy has paid dividends. Rich's October offense was very influential in all of the October games the 16U Stars won. He had a big weekend 10/13-14, going 4-7 with 2 key RBIs and had the game winning RBI 10/21/2012. Way to come up big Rich! Keep up the hard work!
SEPTEMBER 2012

Congratulations to Kellen Williamson on being voted AABA's PLAYER OF THE MONTH- SEPTEMBER 2012. Kellen had a great month on the mound for the 16U Stars throwing 2 complete game wins, K'ing 6 in each of those outings while surrendering only 4 runs through 14 innings. Kellen's efforts on the mound have been a big part of the 16U Stars success this fall and we look forward to many more great performances from #21 in the future!
AUGUST 2012

Congratulations to Spencer Tinkel on being voted All American Baseball Academy's Player of The Month August 2012! Spencer finished up a strong summer season for the 18U Stars in early August and got off to a great start for the Stars in the fall finishing with a .400 batting average on the month (8-20). Spencer's skills at the plate have progressed quickly less than a year after being named 2011 Fall Elite Teams Player of the Year for the 14U Stars. Being a 2015 grad, we expect a couple more years of great performances from Spencer!
JULY 2012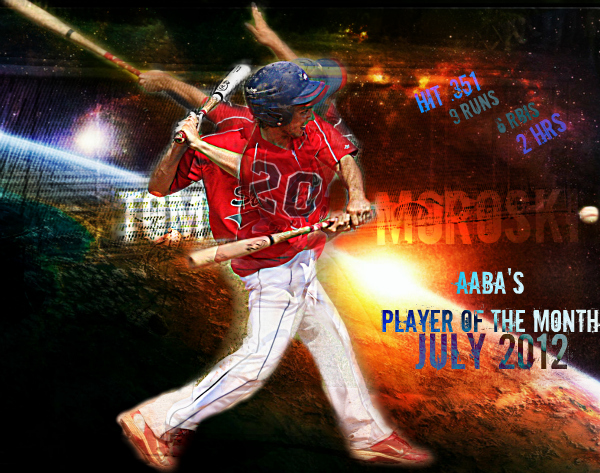 Congratulations to Tom Moroski on being named AABA's PLAYER OF THE MONTH JULY 2012! Tom's month of July began the same way it ended- with a game tying 2 run homerun in the 6th inning of a Berkshire Wood Bat Tournament. The first home run happened July 1st for the 18U AABA STARS and the last happened July 28th for the 16U AABA STARS. During the month Tom hit .351 (12-27) for the 18U Stars, lead the team in runs scored with 9 and RBIs with 6 in 13 games. A productive July complemented a similar June and has helped Tom's Overall Batting Average climb to a team best .447 (17-38). Tom also leads the team on the season in runs scored (13) and RBIs (13). Tom's work ethic this past offseason was phenomenal during team training and has helped him step his game up another level!
JUNE 2012

Congratulations to Matt Oruch on being named AABA's Player of the Month June 2012. Matt hit .440 with 3 doubles and 2 triples in his first month with the 18U AABA Stars. His OBP was .485 and he was a perfect 5-5 in steal attempts. His 7 runs led the team for June and his defense in center field was impressive in the most clutch moments, as he cut down multiple runners at home plate and caught every ball that came his way. This is only the beginning for one of our organization's top prospects. Keep up the great work Matt!
MAY 2012
The fans have voted and Kevin Boswick is AABA's Player of the Month May 2012. On May 8, 2012, Kevin achieved what many great pitchers fail to ever accomplish in their entire careers, throwing a perfect game for Shawnee H.S.. 62 pitches over 5 innings with 12 strike outs. Kevin, who sports a 91 MPH fastball was certainly ON that day. He finished up his senior season with a 4-2 record, 2.10 ERA and was named First Team All Olympic Patriot League. Kevin's hard work all winter with Tom Filer really paid dividends this year. We wish him the best of luck in the fall at Lehigh University! Congratulations Kevin, keep up the great work!
APRIL 2012
The fans have voted and Jordan Pocrass is AABA's Player of the Month for April 2012! Jordan had a very strong month offensively for Lower Moreland High School batting .523 (23-44) in 13 games with 14 RBIs, 17 runs scored, a HR, 5 doubles and a triple. Jordan also had a win on the mound for the Lions. Congratulations on a great April Jordan and keep swinging a hot bat!
MARCH 2012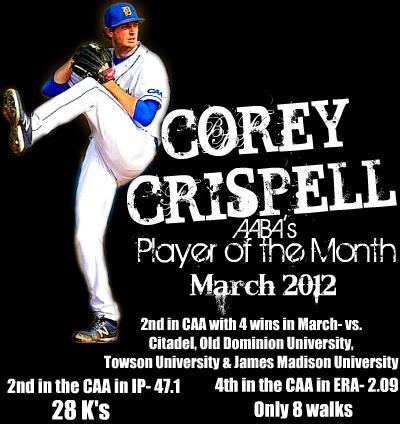 Congratulations to Academy Hall of Famer Corey Crispell on being voted AABA's Player of the Month for March 2012. Corey pitched exceptionally well during the first month of the season for the University of Delaware Blue Hens. Corey won 4
games against UNC WIlmington (#101 nationally), Old Dominion University, Towson (#135 nationally), and James Madison University. Corey's 47.1 innings pitched put him 2nd in the CAA, while his 2.09 ERA sits at 4th best in the CAA (18th strongest D1 Baseball conference in NCAA). He only surrendered 8 walks while striking out 28 batters. Opponents hit a mere .229 against him (5th best in CAA). Crispell is no stranger to success on the mound, coming off of a 2011 campaign where he was named U. of Delaware's Pitcher of the Year. During his time at All American Baseball Academy as a high schooler, he made Sports Illustrated's Faces in the Crowd for striking out 22 batters in a 9 inning contest where he also hit the game winning grand slam! The month of March that Corey had is a tremendous way to begin his final year of college baseball and we're incredibly proud of all that he has accomplished. Great work Corey and best of luck the rest of the season!
2011 PLAYERS OF THE MONTH
OCTOBER 2011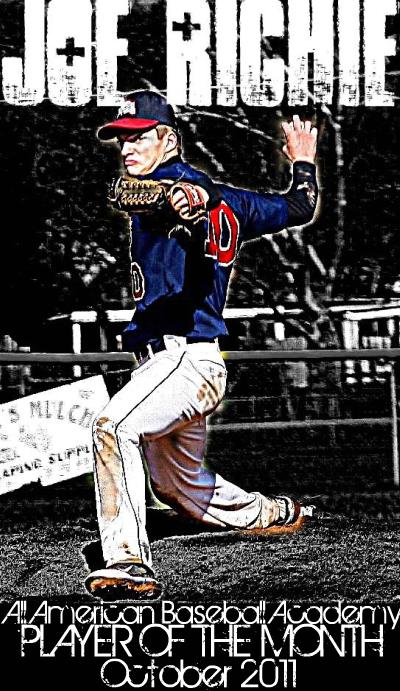 Players and Fans have voted and Joe Richie is AABA's October 2011 Player of the Month. Joe's month was bright on the mound for the 16U Elite Stars. He had 2 dominant weekends for a 16U team that posted the best record for All American this fall season. 11 Strikeouts in a 5-2 victory at ECTB's Columbus Day Bash and a shutout win in a 10-0 blowout of the Iron Colts at Berkshire's Autumn Harvest Tournament were Joe's shining moments in October. Thanks to all who voted for Player of the Month and Congratulations to Joe!
SEPTEMBER 2011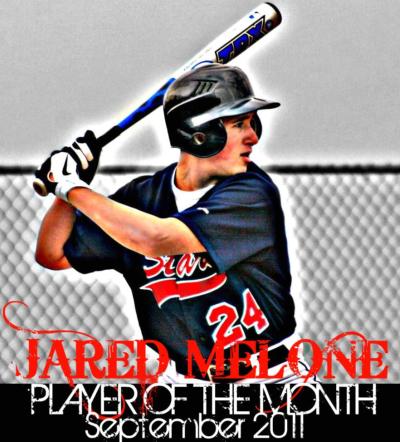 The fans have voted and Jared Melone is AABA's Player of the Month for September 2011! Jared had an amazing first month with AABA hitting over .700 with a homer, 2 triples, 4 doubles and 7 RBI for the 14U Elite Stars and was a big factor in the success of a team that hasn't lost a game since Labor Day. Keep up the excellent work Jared! Thanks to all the fans who voted for all of our prospects!
AUGUST 2011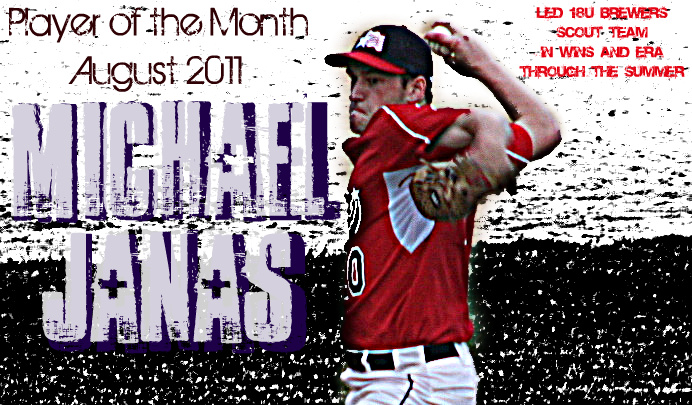 The Fans have voted and Michael Janas is our Player of the Month for August 2011. Michael had a solid summer season on the mound, leading the 18U Brewers Scout team in Wins and ERA. One of Michael's wins came at a Perfect Game national event in Marietta, Georgia. Michael's outstanding performances have attracted the attention of numerous college coaches and the fall season surely holds more success for him.
July 2011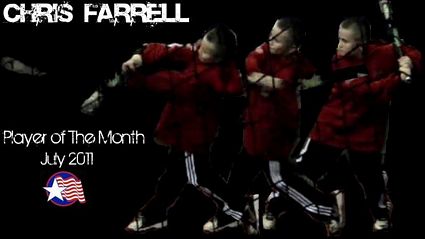 Chris Farrell has been selected Player of the Month for July 2011. During July Chris helped his Warwick Little League Team repeat as 11 yr old state champions (10 yr olds last season). Over the course of the playoffs Chris had close to a .700 batting average (47 at bats), including batting .800 during district playoffs (16-20) with an .840 OBP. Chris continues to impress and we expect more amazing performances from him in the future!
June 2011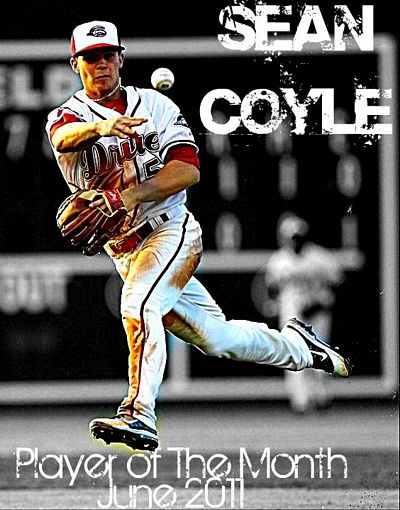 The fans have voted and Sean Coyle is our Player of The Month for June 2011. After being struck in the face with a pitch and missing 10 days, Sean returned to hit 5 doubles and a HR in the remainder of June. Coyle now has 17 Doubles, 6 triples, 6 homeruns, 10 stolen bases, 40 runs scored, and 29 rbi's on the season. Keep up the great work Sean!
MAY 2011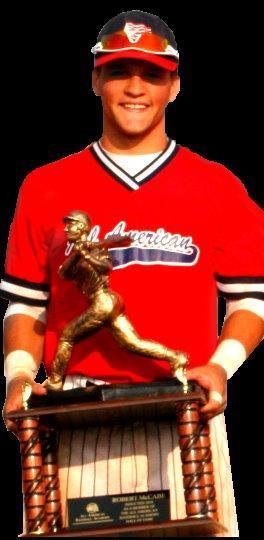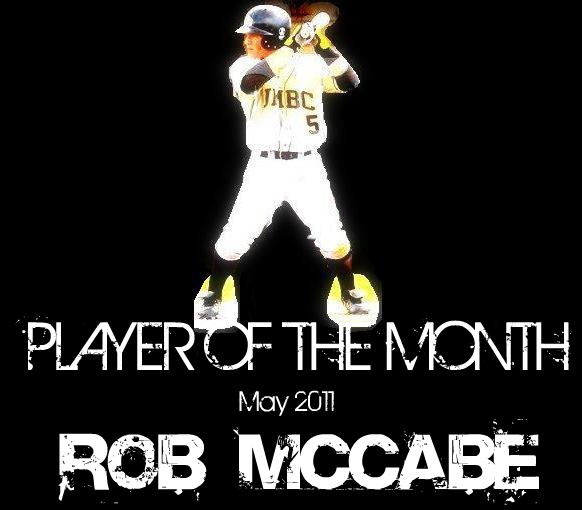 Academy Hall of Famer Rob McCabe of UMBC was selected to the America East Conference All-Rookie team as a freshman. Rob hit .270 in his first season with the UMBC Retrievers and spent the second half of the season as the team's lead-off hitter. He was tied for first on his team with 19 walks and was second on the team in stolen bases with 6. If there was one thing we could always count on as coaches at All American, it would be that Rob would give us 110% without fail. His hard work and determination helped him transform himself as a player and open many doors for success in the future. We're sure that success will continue next season at UMBC as well! Great work Rob!
Pennsylvania's Best Baseball Academy | Professional Baseball Academy Instructors | Baseball Academy Players In The News | Baseball Academy Private Instruction | Baseball Academy Alumni | Baseball Academy Player Profiles

CALL ACADEMY HOTLINE FOR WEATHER CANCELLATIONS

1-866-279-1666