Players of the year will be selected at each level of baseball by coaches and staff at the All American Baseball Academy and voted on by fans on All American Baseball Academy's Facebook page
2017

Aaron Miller did it all for All American in 2017. He hit .348 (48/138) for both the 16U and 17U Team All American teams. He reached base safely 80 times. His 7 doubles, 8 triples, 28 RBIs, 35 runs, 24 walks and 6 wins on the mound were all organization bests. Aaron played great defense at SS, 3B and in the outfield. Whatever the team needed, Aaron provided on a consistent basis. It seemed like every toughest game, most crucial at bat or mound appearance Aaron was there to answer the bell. His 8-18, 4 triple, 1 double, 8 runs, 4 RBI and W on the mound were key in a Team All American Fall Brawl Championship (10/1-2/17). It was amazing to watch him excel after gaining 7 mph and adding 15 mph of bat speed over the winter in our Velocity program. Watching his work ethic all winter we expected him to do great things this year. He exceeded our expectations! Great job Aaron! Awesome to see all of your hard work pay off!!
2016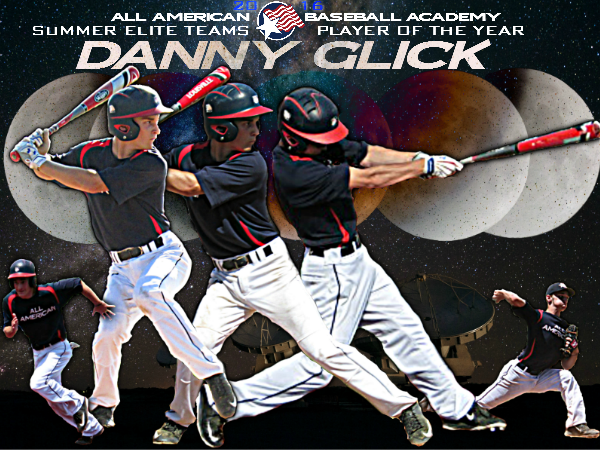 Congratulations to Danny Glick, 2018 SS/RHP on being named All American Baseball Academy's Summer Elite Teams Player of the Year for 2016!!! This is the second time Danny has garnered Player of the Year Honors (Fall 2013- set single season hits record for AABA with 31- it still stands today). He is an all around special player and person. You won't find a harder worker. In the off season he LIVES at our facility. You won't find a more committed TEAM player. Whatever the TEAM needs at any given time, Danny is waiting to deliver. He's also the first person to help coaches carry equipment or volunteer for any task that the staff or team may need. During games and practices he's 110% effort at all times. His motor is incredible. At 15 years old he lead 17U Team All American in hits with 13 in 18 games (.325 batting average) out of the 3-hole. His on base percentage was .480, he swiped 6 bases and his fielding at shortstop was excellent. We are incredibly proud of this young man and whatever college program he chooses will be getting a WINNER in every sense of the word. Fantastic work Dan!!

Tim Terrific
Surprise, Surprise. You can sum up Tim Brennan's first season at St. Joe's University in one word. Terrific. A team best ERA of 2.52 (101st in Division I baseball). A team best 7 wins. 69 strike outs in 82 innings and only 13 walks (40th in the country in strikeout-to-walk ratio). He was 30th in the nation in WHIP 0.99. The numbers speak for themselves. He earned A-10 Rookie of the Week and Big 5 Pitcher of the Week honors 3 times during 2016. Atlantic 10 All-Rookie Team honors to finish the regular season accolades. Congrats on a great first year Tim!
2015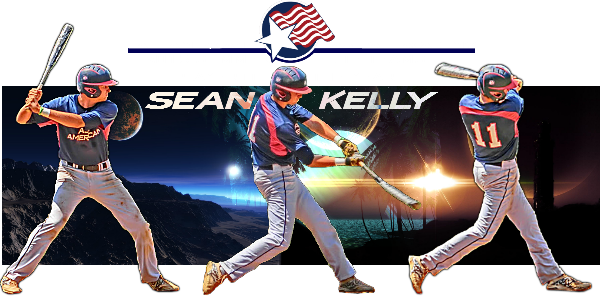 Sean Kelly can flat out hit. He has the ability to challenge the fence on a regular basis. He proved it this summer for Team All American in showcase tournaments up and down the east coast. Sean amassed 24 hits in 20 games and half of them were for extra bases (11 doubles, 1 triple) en route to a team/organization best .522 batting average (24/46). He also led Team All American in on base percentage .623 and runs scored with 18. He was second on the team with 11 RBIs. He also played great defense, picking balls at first and handling pitchers/would be base stealers behind the dish. His consistent power ability and all around play got the attention of numerous DI, DII and DIII schools in PA, NJ, MD, VA. The future is very bright for this 2016 Archbishop Wood HS grad. Congratulations on a fantastic season Sean and the Kelly Family!!!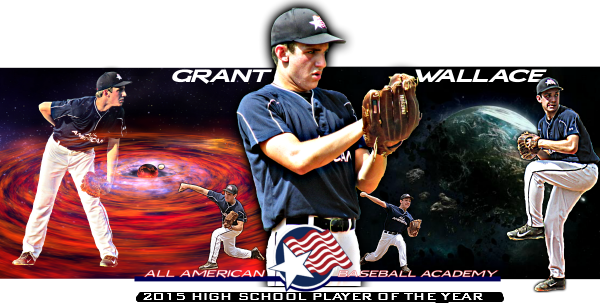 Congratulations to Grant Wallace, 2015 RHP from Marple Newtown HS on being named All American Baseball Academy's High School Player of the Year for 2015!!! What a difference a year makes. What a difference hard work and sound guidance can make in a young man's career. In his room at home, above his desk, on the ceiling was a number. "90" He, like many players, dreamed of one day throwing 90 mph. He was sitting 81-82 MPH going into the off season before his senior high school season. A commitment to Neumann University in hand already, and the near future mapped out. But he still had a dream. Grant doesn't live around the corner from All American Baseball Academy, but he didn't use proximity as an excuse not to get his work done. He used his time this past off season to make numerous trips to AABA in order to radically improve his mechanics and strengthen his deficient areas. The dedication paid dividends. He now sits 85-87 MPH and managed to hit 90 multiple times in the testing portion of the Velocity Plus Arm Care Program. His improvement immediately caught the attention of opposing HS coaches in the Central Athletic League this spring. He struck out 47 hitters in 41 innings during his first month of work for the Tigers. He finished the regular season among the top pitchers in Southeastern Pennsylvania with 6 wins, 53 K's in 48 innings pitched and a 2.12 ERA. This hard working young man is going to have a bright future at Neumann University. Great work Grant, congratulations to you and the Wallace Family!!!
2014

Congratulations to Dexter Marchan, 2016 OF, on being named All American Baseball Academy's Summer Elite Teams Player of the Year 2014!!! Athleticism and more importantly, a Great Attitude helped Dexter transform himself as a hitter over the course of 2 months. The 2016 grad came to us after only 1 varsity at bat in the 2014 high school season for Caravel Academy looking to improve all aspects of his game. The right attitude, coupled with a strong work ethic (he attended every game/practice/private session and gave every swing/sprint/throw/drill 110%) helped Dexter lead the organization in Extra-Base Hits with 9 (8 doubles and a triple) and RBI's with 20 in 22 games. He hit .322 (19/59) and led Team All American in BB/HBP's with 17, en route to a team best .462 On Base Percentage. He also played a stellar centerfield for Team All American all season, running down fly balls in the gap and making diving catches routinely. The future is very bright for this young man and DI coaches have already begun taking notice. We look forward to helping one of the top talents in DE's Class of 2016 develop further this offseason! Great work Dexter and Congratulations to you and the Marchan family!!!

Congratulations to Academy Hall of Famer, Billy Fleming on his 3rd straight ALL AMERICAN BASEBALL ACADEMY COLLEGE PLAYER OF THE YEAR AWARD!! 2014 was a phenomenal year for Billy and the (28-24) #29 West Virginia University Mountaineers. Billy was named 1st team All-Big 12 Conference, Second Base after leading the conference in Batting Average .353 and hits with 76 (47th most hits nationally) in 51 games. His .412 On Base Percentage ranked in the top 10 in the Big 12 as well. Billy's awesome offensive year was highlighted by 25 multi-hit games: 3 4-hit performances, including hitting for the cycle in a 4-6 performance vs. Kansas 5/11/14, 6 3-hit performances, and 16 2-hit games. February 2014 may have been cold but Billy got off to a red hit start going 9 for his first 15 in 3 games against #8 Louisville, The Citadel, and San Diego State. March was highlighted by a 2-3 performance vs. UNC, and then a terrorizing 9 for 14 performance in a 3 game set with UNC Wilmington. April included 2 multi-hit games vs. Kansas State and walk off heroics 4/26/14 in a 6-5 win. In May, thus far, Billy had a great series vs. #11 Texas with 3 2-hit games and went 2-4 with 2 runs and an RBI in a 10-9 Big-12 Playoff win over Kansas 5/21/14. He also played stellar defense all season, committing only 4 errors in 51 games .982 Fielding Pct. 2014 Billy set career bests in doubles with 8, RBIs with 28 and cranked his first collegiate homerun. Billy's gritty style of play has MLB scouts taking notice- watch for the junior's name June 5th-7th in the First year Player Draft. Awesome season and congratulations for the 3rd time winning AABA College Player of the Year!!!
UPDATE: BILLY SIGNED A CONTRACT WITH THE NEW YORK YANKEES!!!
2013
AABA'S 2013 FALL ELITE TEAMS PLAYER OF THE YEAR

By: Coach Josh Wernick
Congratulations to Danny Glick on being named AABA's Fall Elite Teams Player of the Year 2013!!! Danny's performance through 19 games this fall for the 13U Stars was simply outstanding. In his first season with AABA he set a new record for hits in a season with 31 en route to a .517 batting average. On the mound he was a perfect 4-0 with 2 complete games and 18 strikeouts. 3 of Danny's wins came during the 13U Stars championship run at ECTB's Grand Slam 9/14-14/2013. There is no doubt who the most valuable player in the organization was this fall. I have to say Danny's success comes as no surprise after years of working with him on his hitting and pitching. Many factors go into whether someone will be a great ballplayer. Some factors are physical (size, athleticism, etc.), others are intangible and unteachable. A receptive Attitude, Passion for the game, work ethic, etc. are all qualities that are rarer and rarer in this day and age. But they're all qualities that this young man possesses. From the first time I worked with him in summer camp when he was a 5'0, 70lb, 11 year old kid, he showed me as a coach that he had what it takes to continuously improve and distinguish himself from the pack. He took the instruction I gave him and he made it his own. And within a day, he was driving the ball over the 200 ft fence. His competitive spirit and determination to make himself great was evident over the next couple of years in our Junior Academy Program. Moving further in refining his technique, he began taking private lessons with me on a regular basis to get himself hitting consistent line drives, getting the most out of his pitching mechanics and improving his fielding/throwing form. He always has an idea of what skills he needs to work on in order to make himself the best all around player he can possibly be, and most importantly, he never wants to stop improving. So this is only the beginning for a talented, very special young man. We're all very proud of you Danny! Keep working hard, the sky's the limit!
AABA'S 2013 SUMMER ELITE TEAMS PLAYER OF THE YEAR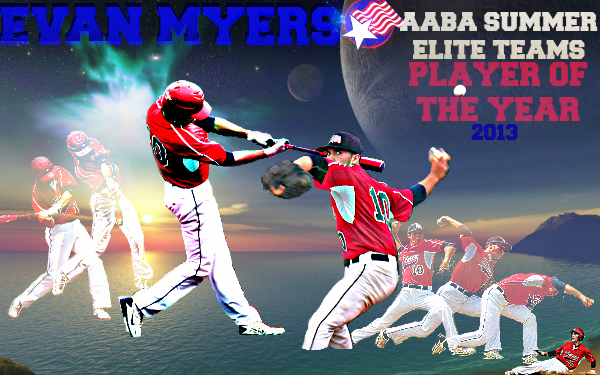 The fans have voted and Evan Myers, 2014, is AABA's 2013 Summer Elite Teams Player of the Year!!! Evan led the 18U Stars in extra base hits this summer with 6, triples with 3 and hit .370 in 27 at bats. Evan was also second on the team in runs scored with 9 and knocked in 7 runs. On the mound, Evan struck out 10 batters in 13 IP and picked up a win for the Stars. Solid defense at first base complimented the rest of his performances and certainly make him a prospect to watch for the class of 2014! Congratulations to Evan and keep up the great play in the fall!! Check out Evan in Action- HERE!
AABA'S 2013 COLLEGE PLAYER OF THE YEAR

The fans have voted and Academy Hall of Famer Billy Fleming has won his second straight AABA COLLEGE PLAYER OF THE YEAR! Billy won his second title in overwhelming fashion setting a record for most votes in an AABA poll with 81! The sophomore second baseman hit .296 on the year in 55 games for the Mountaineers and only made 3 errors all season (.986 Fielding Pct- 2nd best on team). Billy was 10th in conference for batting average, hitting .329 with 5 doubles in Big 12 games. For his stellar play he made All Big 12 Honorable Mention. Billy got off to a hot start to the 2013 season going 5-9 in a series v. North Florida. Other highlights included his clutch 2 hits and game winning run performance in a 1-0 win over Texas. Later in the series Billy executed the hit and run that led to a 6-3 10th inning win over the Longhorns. He had 5 hits in the 3 game series. A 3-3, 2 double performance v. Kansas in a 1-0 win and a 3 run double in a 4-3 win v. Kansas were shining moments as well. The sophomore also went 2-4 with 3 runs and 2 RBIs in WVU's Big 12 Playoff Tournament win vs. TCU. 10 doubles, a triple, 21 RBIs and 23 Runs don't even explain the important role Billy played in numerous victories for the Mountaineers by moving runners into scoring position with successful sacrifices (6). Congrats on a great Sophomore campaign with the Mountaineers Billy! We expect an even better junior campaign in 2014!!
AABA'S 2013 HIGH SCHOOL PLAYER OF THE YEAR

The fans have voted and Spencer Tinkel, 2015 is AABA's 2013 HIGH SCHOOL PLAYER OF THE YEAR! In his first full season of varsity baseball Spencer made a statement with his play both at the plate and on the mound. As New Hope Solebury High School's 3 hitter, Spencer hit .500 with 30 RBI's and 22 runs scored in 19 games! 7 Doubles, 4 Triples and a HR helped the Lions reach the playoffs. One of Spencer's most memorable moments of the 2013 season came on May 15th when he hit the game winning 2 run double off the fence vs. Lower Moreland. 4-4 performances against Morrisville (4/11/2013) and Solebury School (4/6/2103) were also highlights for the Sophomore. On the mound he picked up 3 wins and K'ed 40 in 35 innings pitched. This is only the beginning for one of our organization's top prospects! We expect another great summer season from Spencer with our 18U National Stars. Awesome season Spencer!!!
Check out Spencer Tinkel's Video
2012
AABA'S 2012 FALL ELITE TOURNAMENT TEAMS PLAYER OF THE YEAR

Congratulations to Alexandro Kovalcik on being voted All American Baseball Academy's 2012 Fall Elite Teams Player of the Year! Xandro led the 18U Stars with a .354 batting average through the fall, despite just finishing his freshman year at The Pennington School. His .417 OBP, 6 RBI's and 3 doubles were also team highs. Xandro's bat really came alive at the Bucknell Tournament where he rattled off 6 hits on the weekend (6 for 10, 3 RBIs, 2 doubles- 9/15-16). By the end of the season Xandro solidified himself in the middle of the 18U Stars line up. Defensively, behind the plate, he cut down 5 would-be-base-stealers and did an excellent job handling the Stars pitching staff all season. Great job Xandro we expect years of more great performances from you!
AABA'S 2012 SUMMER ELITE TOURNAMENT TEAMS PLAYER OF THE YEAR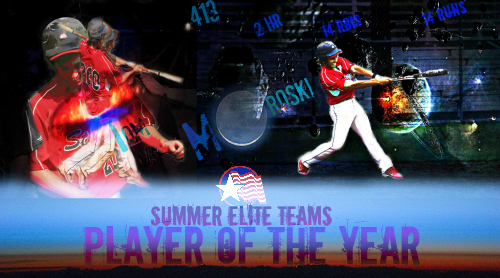 By: Coach Josh Wernick
When Tom Moroski showed up to try out for our summer teams this past winter, he had a unique raw style about him. He was at the beginning of the learning curve in terms of approach and technique so I asked him what he was looking to achieve and he said, "I just want to get better." I knew what kind of results that type of attitude could produce and Tom began training with us. The spring didn't turn out exactly how Tom or any of our staff expected. He was cut from the high school team. I encouraged him to keep working hard and try to make it impossible for his coaches not to keep him next year. Through the spring months while everyone was content playing games and then calling it a day, Tom was in the building at every open practice; fully prepared to take his game to the next level. This preparation proved to be the key to his success. Our initial plan was for Tom to play 16U, but the first weekend of the 18U season the team was shorthanded at catcher. Lucky for us Tom could fill in. He went 2 for his first 5 at bats and I liked what I saw so much I told him he couldn't go back down to 16U. He had to be on the 18U team. He was a bit unsure of himself, but throughout the season he was only to play down with the 16U Stars when there was nothing scheduled for the 18's. His next tournament with the 18's he went 8 for 12 with 3 doubles and a game tying 2-run homerun in the top of the 6th inning of game 3 (a 6 hit day for Tom 7/1/2012). He led the team in hitting from that point forward, finishing with a .413 batting average (19/46), led the team in RBI's with 14, doubles with 4, was tied for the lead in extra base hits with 5, and was second in runs scored with 14. While filling in for the 16U Stars on an off weekend 7/30/2012, Tom repeated his game tying 2-run homerun in the top of the 6th inning feat from the beginning of the month. Tom hit .417 for the 16U stars in 9 games (5 for 12) with 4 runs, a double, 6 RBI's and a HR. A .414 overall average for the entire summer (24- 58) 2 HRs, 20 RBI's, 5 doubles, and 18 runs were tops in our organization. Tom's season is a testament to his relentless spirit, receptive attitude and eagerness to learn. Congratulations Tom, we're incredibly proud of your attitude and accomplishments. To be continued...
AABA'S 2012 COLLEGE BASEBALL PLAYER OF THE YEAR


By: Coach Josh Wernick
Congratulations to 2012's winner Billy Fleming, Freshman- West Virginia University. I can remember giving Billy Fleming hitting lessons when he was in 8th grade. It was clear then that he was going to be very special and have a tremendously bright future. I marveled at his athleticism and let him know the Year Round Academy Program was the perfect place for him. Billy spent a couple years perfecting his skills with us while balancing 2 sports during his high school days. He was also a 3-year starting Quarterback at Council Rock South High School, but never let that stop him from coming in to see Coach Bob Vivian for lessons. Billy finished his 4 year high school varsity career batting .499 and garnered Suburban One Player of the Year Honors as a senior in 2011. Flash Forward. Billy's first year at West Virginia University he batted .316 overall in 133 at bats, with 6 doubles, a triple, 22 rbi's and 3 stolen bases. He finished with the 4th best In-conference batting average (Big East) at .354 4 of his doubles were in-conference. He only made 4 errors all season in the infield .975 fielding percentage. His season highlights included: (5/17/2012) vs. USF, going 3-3 with a triple and an RBI, (5/15/2012) going 2 for 3 with 2 doubles and 2 runs scored in a 5-1 victory over LaSalle University, versus #18 Louisville on 5/5/2012 he hit a 2 run walk off double in the bottom of the ninth inning to give WVU a 4-3 upset win and then went on to game 2 and rattled off 4 hits in 5 at bats. He finished the weekend 6-12 with 5 RBIs, Hitting .400 in a series vs. University of Pittsburgh 4/20/2012-4/22/2012, and going 4-10 on the weekend against Nebraska, Minnesota and New Mexico in a tournament at The Metrodome in Minnesota. We expect MANY more great moments in the future for Billy- Congratulations on being voted this year's College Player of the Year!
AABA'S 2012 HIGH SCHOOL PLAYER OF THE YEAR

Congratulations to Academy Member Jordan Pocrass on being voted All American Baseball Academy's 2012 High School Player of the Year! Jordan's work ethic over the winter paid big dividends in his sophomore season at Lower Moreland H.S.. His 27 RBIs and 23 Runs accounted for 30 percent of Lower Moreland's runs scored during the 2012 season (165 runs in 20 games). His .500 batting average (35-70) was top 10 in the Southeastern PA Area in 2012. His .523 batting average during April earned him AABA's Player of the Month and he continued to get timely hits through May. Jordan had an extra base hit/multi-hit game in 9 of Lower Moreland's 12 wins in 2012. He was clearly a major part of the Lions playoff qualifying 12-9 season in 2012, also picking up 3 wins on the mound. Congratulations on a great season Jordan!
2011
AABA'S COLLEGE BASEBALL- PLAYER OF THE YEAR
Tom Coyle- University of North Carolina Tarheels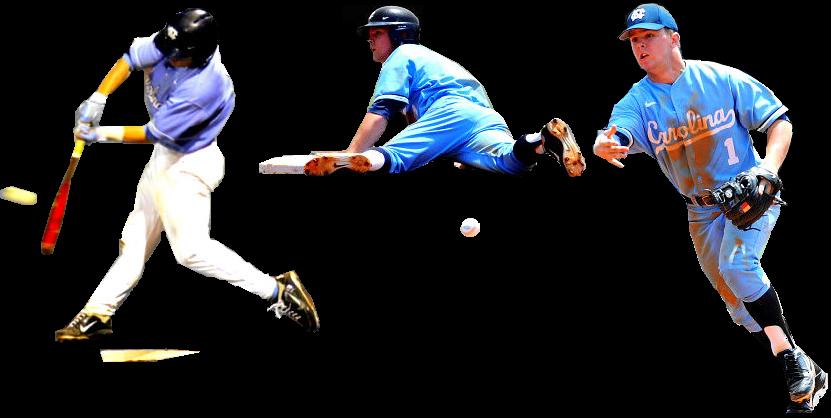 When he came to the Academy at the age of 8, we could already see that his future would be tremendously bright. Flash Forward. A .307 regular season batting average in the ACC (2nd Ranked Conference in NCAA Division I Baseball) is no small task. Tom's performance as a Sophomore second baseman during the 2011 season earned him a place on the Second Team All-ACC Team. Coyle lead the conference in total plate appearances with 270, was 31st in the conference in Batting Average and only struck out 21 times (that's less than 8% of the time). He was 10th in runs scored (50), 10th in hits, 10th in stolen bases (16), had a .396 OBP and was 16th in doubles(15). Tommy was one of only 3 players to start and play every game of the season for UNC. During the ACC Tournament and Regional Playoffs, Tommy went 11 for 24 (.458) with 4 RBI's, 5 runs, 1 Triple and 2 SB. He upped his batting average on the year to .322 (second highest on the team). Through the NCAA Super Regional Tournament, Tommy led the Tar Heels statistically in total hits (83), runs (57), stolen bases (18), and fewest strike outs (22). Tom watched a couple of his fellow teammates get drafted during the playoffs and we hope to hear his name in the MLB draft next season as a junior. In Tom's summer collegiate league... The Cape Cod League (top collegiate summer league) Tom was selected to the all star team after batting over .300 for the first half of the season for the Bourne Braves and went on to finish the Cape League Season with a .315 Batting Avg (9th highest in the league).
AABA'S HIGH SCHOOL- PLAYER OF THE YEAR- 2011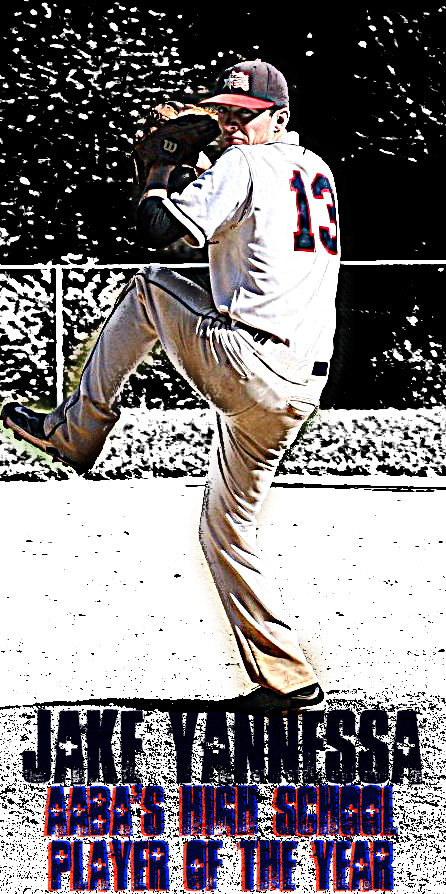 Our fans have voted and Jake Yannessa is our 2011 High School Player of the Year. Jake's performance throughout the season helped take the Springfield Spartans deep into the 2011 playoffs. Jake threw 6 CG's including a no hitter and a one hitter posting a 3.04 ERA with 51 strikeouts in only 46 innings while hitting a scorching .441 with 30 runs scored and 17 stolen bases. Definitely a season to remember for Jake and the Spartans! Great Job!
AABA'S YOUTH- PLAYER OF THE YEAR

By: Coach Josh Wernick
Chris Farrell is talented beyond his years. At only 11 years old, he is playing year round against kids who are 2 or 3 years older than he is... and excelling. His rounds of batting practice are line drive after line drive to all parts of the field, from both sides of the plate!! Working year round in private instruction at The All American Baseball Academy, Chris keeps his left-handed and right-handed swing in tune. He plays weekly in tournaments in Pennsylvania and New Jersey. When I ask him how his games over the past week have gone, he usually replies with some form of well over a .500 batting average with hits to all parts of the field. This past year we have added more 'pop' to Chris' swing through use of his legs to couple his already exceptional hand skills from both sides of the plate. The level of talent and control he possesses at his age is a rarity. He reminds me of Tom Coyle when he was around the same age, only he's a switch hitter. I'm in awe after every lesson at just how well he performs and what a great receptive attitude he brings to every session. Chris recently added another Little League State Title to his young resume, winning the state again with Warwick Little League as 11's in 2011 (won as 10's in 2010). Over the course of the 2011 little league playoffs Chris hit nearly .700 in 47 at bats! During District playoffs in particular Chris hit .800 (16-20) with an .840 OBP. Phenomenal Numbers at a very young age! I'm sure the future will be extremely bright for Chris.
AABA'S SUMMER ELITE TEAMS- PLAYER OF THE YEAR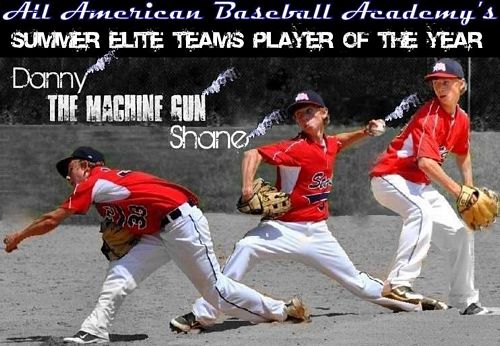 What a season it was for 14 year old Danny Shane. Over the course of the summer Danny's performances on the mound, at the plate, in the field and on the bases stood out each and every weekend. On the mound he lead the 14U Elite Stars to a championship (AABA's first ever) at Berkshire's Memorial Day Tournament with 2 wins, including the championship game. These two wins featured double digit strikeout totals and he only allowed 1 earned run on the weekend. There was no doubt who the MVP of the tournament was. The next weekend Danny threw a complete game shutout featuring 14 strikeouts. His exceptional play all season earned him a promotion to the 16U Elite Stars in the beginning of August where he homered at ECTB Stadium in his very first game. Danny as a 14 yr old managed to edge out Senior Jake Madnick in voting for AABA's Summer Elite Teams Player of the Year (79 to 77). We expect more highlight reel standout performances from Danny this fall for the 16U Elite Stars!
AABA'S FALL ELITE TEAMS- PLAYER OF THE YEAR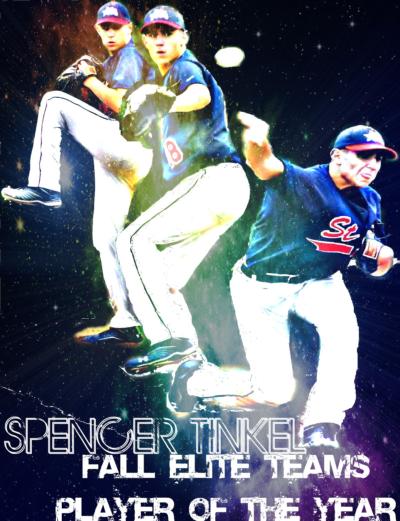 The Fans have voted and Spencer Tinkel is our landslide victor for Fall Elite Teams Player of the Year. Spencer was dominant on the mound, tying AABA's record for most pitching wins in a month with 3 in September. Spencer also hit .500, led the 14U Stars in hits with 13 (5 doubles) and scored 7 runs. Talented at the plate, in the field at shortstop, and on the mound, Spencer is already a must follow prospect. An exceptional attitude and work ethic compliment his plus size and strength for his age. Spencer Tinkel is a player you will surely hear more and more about in the next few years of his high school career, elite teams career and beyond! Congratulations to Spencer and thanks to all fans/players who voted!
Pennsylvania's Best Baseball Academy | Professional Baseball Academy Instructors | Baseball Academy Players In The News | Baseball Academy Private Instruction | Baseball Academy Alumni | Baseball Academy Player Profiles

CALL ACADEMY HOTLINE FOR WEATHER CANCELLATIONS

1-866-279-1666